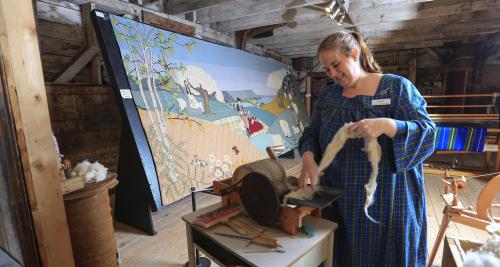 Discover a riverside mill
Established in 1882, this turbine-driven woolen mill changed the way local fishing and farming families made the yarn and cloth they needed to produce warm, wool clothing.
Before the introduction of the mill and its machines, turning raw fleece sheared from sheep into wool products had to be done at home and by hand; a chore that could consume countless hours. The mill gave residents a new, faster way to process fleece and, additionally, contributed to the community by broadening the local economy and providing job opportunities.
Peak production at the mill took place from 1900 to 1910 and also during World War II (1939 to 1945), when the demand for wool products increased. By 1962, the mill ceased production and, as one of the last small mills from the 1800s, was adopted into the Nova Scotia Museum system in 1968.
When touring the mill, there are several experiences to enjoy:
See the mill's original machinery.
Hear stories about the mill workers' day to day lives as part of a thriving new industry.
See demonstrations of handspinning, dyeing, processing, and weaving of wool.
See an appliqué mural that includes the first piece of Nova Scotia tartan, which was designed and woven by Bessie Murray in 1953.
Be inspired by the mill's picturesque setting.
Visit the on-site gift shop.
After touring Barrington Woolen Mill Museum, compliment your heritage experience by visiting the nearby Old Meeting House Museum.